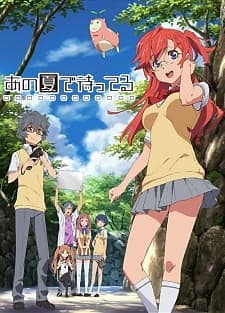 Alternative Titles
English: Waiting in the Summer
Japanese: あの夏で待ってる
INGIN PASANG IKLAN ANDA DISINI..?
Information
Type: TV
Episodes: 12
Status: Finished Airing
Aired: Jan 10, 2012 to Mar 27, 2012
Producers: J.C.Staff, Geneon Universal Entertainment, Genco, AT-X, Sentai FilmworksL, Bushiroad Inc., Showgate
Genres: Comedy, Drama, Romance, Sci-Fi, Shounen, Slice of Life
Duration: 23 min. per episode
Rating: PG-13 – Teens 13 or older
Credit: Animesubindonesia
Convert & Upload: Ainul-kun
Post: Eam
Ketika sekelompok teman-teman memutuskan untuk membuat film selama liburan musim panas yang panjang, mereka akhirnya belajar sedikit tentang pembuatan film dan lebih banyak tentang satu sama lain dan diri mereka sendiri. Apa yang dimulai sebagai cara sederhana untuk menghindari lesu musim panas dengan cepat berubah menjadi sesuatu yang jauh lebih kompleks, intim dan mengungkapkan, sebagai hubungan jatuh tempo antara anggota dari pemain muda mengambil baru, dan kadang-kadang sangat tak terduga, ternyata.
Ano Natsu de Matteru Episode 01 – 12 END (Sub Indonesia) , donwload Ano Natsu de Matteru Episode 01 – 12 END (Sub Indonesia) , download anime Ano Natsu de Matteru Episode 01 – 12 END (Sub Indonesia) , anime Ano Natsu de Matteru Episode 01 – 12 END (Sub Indonesia) , download anime mp4 , mkv , 3gp sub indo , download anime sub indo , download anime sub indo Ano Natsu de Matteru Episode 01 – 12 END (Sub Indonesia)