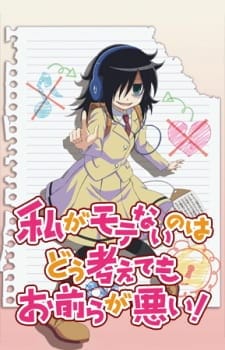 English: WATAMOTE ~ No Matter How I Look At It, It's You Guys' Fault I'm Unpopular!
Type: TV
Episodes: 12
Status: Finished Airing
Aired: Jul 9, 2013 to Sep 24, 2013
Producers: Square Enix, Silver Link, Sentai FilmworksL, Watamote Production Committee
Genres: Comedy, School, Shounen, Slice of Life
Duration: 24 min. per episode
Rating: PG-13 – Teens 13 or older
INGIN PASANG IKLAN ANDA DISINI..?
Tomoko Kuroki adalah cewek SMA yang sangat populer, yang berpengalaman berpacaran dengan 100 cowok selama 50 tahun, tapi… di dunia game. Di dunia nyata, ia hanyalah cewek "mojo" berusia 15 tahun. "Mojo" artinya "cewek penyendiri dan nggak populer sama sekali".
Walaupun begitu, ketika kehidupan sekolah tidak seperti yang ia harapkan, dan ia tidak populer seperti yang ia pikirkan, ia kemudian bercermin untuk pertamakalinya dalam beberapa tahun…
Kemudian, ia mendapati penampakannya, yang membuatnya kaget…
Theme Song
Opening:
1. 'Watashi ga Motenai no wa Dou Kangaetemo Omaera ga Warui' by Suzuki Konomi n' Kiba of Akiba
Ending:
1. 'Dou Kangaetemo Watashi wa Warukunai' by Kitta Izumi
2. 'Musou Renka' by Velvet.kodhy
3. 'Yoru no Tobari yo, Sayounara' by Velvet.kodhy
4. 'Natsu Matsuri' by Hatsune Miku
Download Sub Indonesia
– Watamote 01 {SS}
RD | 3GP | MP4 | HDQ |
SB | 3GP | MP4 | HDQ |
– Watamote 02 {SS}
RD | 3GP | MP4 | HDQ |
SB | 3GP | MP4 | HDQ |
– Watamote 03 {SS}
RD | 3GP | MP4 | HDQ |
SB | 3GP | MP4 | HDQ |
– Watamote 04 {SS}
RD | 3GP | MP4 | HDQ |
SB | 3GP | MP4 | HDQ |
– Watamote 05 {SS}
RD | 3GP | MP4 | HDQ |
SB | 3GP | MP4 | HDQ |
– Watamote 06 {SS}
RD | 3GP | MP4 | HDQ |
SB | 3GP | MP4 | HDQ |
– Watamote 07 {SS}
RD | 3GP | MP4 | HDQ |
SB | 3GP | MP4 | HDQ |
– Watamote 08 {SS}
RD | 3GP | MP4 | HDQ |
SB | 3GP | MP4 | HDQ |
– Watamote 09 {SS}
RD | 3GP | MP4 | HDQ |
SB | 3GP | MP4 | HDQ |
– Watamote 10 {SS}
RD | 3GP | MP4 | HDQ |
SB | 3GP | MP4 | HDQ |
– Watamote 11 {SS}
RD | 3GP | MP4 | HDQ |
SB | 3GP | MP4 | HDQ |
– Watamote 12 {SS} [END]
RD | 3GP | MP4 | HDQ |
SB | 3GP | MP4 | HDQ |
Thanks To :Grogol

Watashi ga Motenai no wa Dou Kangaetemo Omaera ga Warui! Episode 01-12 "END" ~ [Subtitle Indonesia] , donwload Watashi ga Motenai no wa Dou Kangaetemo Omaera ga Warui! Episode 01-12 "END" ~ [Subtitle Indonesia] , download anime Watashi ga Motenai no wa Dou Kangaetemo Omaera ga Warui! Episode 01-12 "END" ~ [Subtitle Indonesia] , anime Watashi ga Motenai no wa Dou Kangaetemo Omaera ga Warui! Episode 01-12 "END" ~ [Subtitle Indonesia] , download anime mp4 , mkv , 3gp sub indo , download anime sub indo , download anime sub indo Watashi ga Motenai no wa Dou Kangaetemo Omaera ga Warui! Episode 01-12 "END" ~ [Subtitle Indonesia]